TYPE: Non-Prescription
BRAND: Cetrine Allergy
ACTIVE INGREDIENT: Cetirizine Dihydrochloride
STRENGTH & PACK SIZE:
10 mg Tablets x 7
10 mg Tablets x 30
INDICATION:
Cetrine Allergy is indicated in adults and paediatric patients 6 years and above:
– for the relief of nasal and ocular symptoms of seasonal and perennial allergic rhinitis.
– for the relief of symptoms of chronic idiopathic urticaria.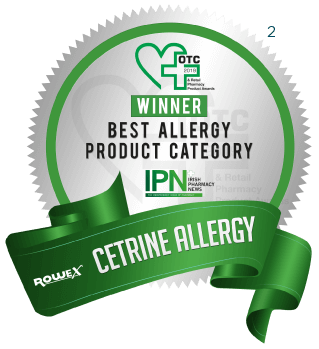 Ref 2: "Cetrine Allergy 10mg Film-coated Tablets" was the winner of "Best Allergy Product Category" by IPN (Irish Pharmacy News) on 07/03/2019 at the OTC 2019 and retail pharmacy product awards.